The South West Rail Society, based in Birregurra, Victoria, Australia, has frequent steam rail runs hiring and using West Coast Railway (WCR). Rolling stock and locomotives. On a Sunday in late September RailNutterNews rode along on their Maryborough / St. Arnaud Day Tour. SWRail Operations Manager Steve Dalton kindly arranged for RailNutterNews to ride the cab of Locomotive R711 for lengthy daytime and evening segments of the 267 km journey (Baccus Marsh to Ballarat and Baccus March to Melbourne Spencer Street Station).

Vintage carriages and a dining car behind a 'Hudson' oil burner steam loco, who's cab contains a control unit for an FL9 era diesel (the T class diesel was being transferred to Ballarat, via the steam special, for repairs), give one the genuine sense of mid 20th century rail travel across the Victorian countryside. Steam Loco R711 was built in Scotland in 1951 to Australian specifications; it served VR service from North Melbourne Depot until 1965. After residing in a park in Bendigo, it was transferred to Ballarat East Workshops in 1995 where it was completely rebuilt and converted to oil, and the diesel control stand was added. R711 is a Hudson type 4-6-4 express passenger locomotive.

The vintage carriages consisted of restored BK Economy Class Excursion Carriages which were in original service in the 1940's with parlour seating cubicles, BRS air conditioned Economy class compartment carriages (with snack bar), BZ A/C economy class carriage, and The Southern Aurora dining car, RMS2360, which originally ran between Melbourne and Sidney from the 1960s until 1990. Elegant dinners are still prepared and served aboard the Southern Aurora dining car; on the trip shown, by a Geelong (Australia) based catering company Hungary Hamper Catering, we had Pumpkin soup with sour cream, Rack of Lamb with plum sauce, scalloped potatoes, salad, wines champagne and other drinks, coffee, and exquisite Chocolate Orange Torte, Baked Cheesecake. YUM!!!

When the train arrived at the turntable in the small town of St Arnaud, the local town brass band was at the station platform in full uniformed regalia royally regaling us with ompah music and ragtime tunes.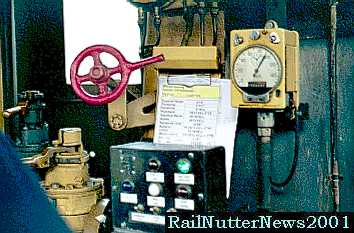 R711 cab with remote diesel control stand
Note speed indicator clocking 100 kph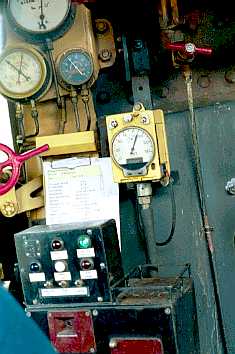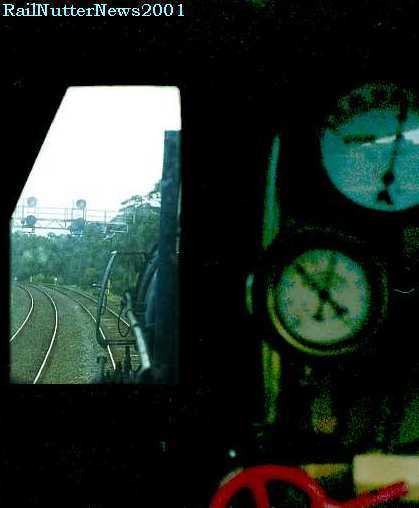 view from driver's seat R711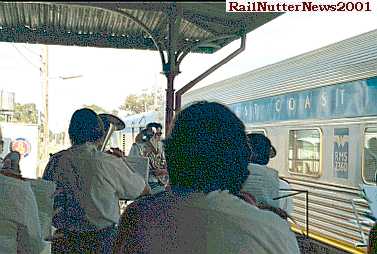 band greets the train at St. Arnaud