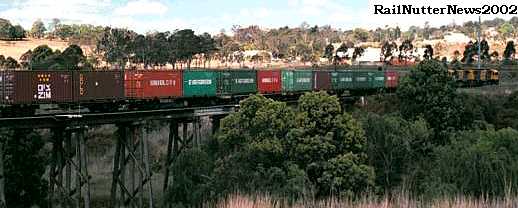 A container train arrives at Willowburn freight yard
Click photos for full size


Toowoomba shunt engine with a shunter's "runner" attached at the rear. This wagon permits
safe transit for shunting staff, during operations, rather than hanging off regular wagons.

(Above and below) A container train passing thru a
small cutting about 5 km west of Willowburn yard


(above and below) In the original Queensland Rail livery, a light loco
crosses the trestle bridge into the eastern end of Willowburn Yard

Click Photos
For Full Size





In the pastoral hinterlands two hours west of Brisbane the town of Toowoomba (left) is a paradise of wooden trestle bridges and train yards filled with the movement of goods trains amidst the calm countryside.

Nearby is the historic Spring Bluff Station. noted for its award winning flower gardens (below). We were most fortunate to be there when a rare freight train rumbled gallantly through the mountain grades and curves.

We were able to chase Locos 2390 and 2391, consisted in sequence, over rolling back roads from Spring bluff to Murphy's Creek where they emerged from the mountains towards dusk.

At Helidon there is a clear view of a classic Aussi level crossing.

RailNutterNews is deeply grateful to Matt Smith and the other suspected ringleaders of QRIG for their gunzil convoy communications during this day and for their patience while I waited for that horse to stay put as a train passed through the scenic industrial rural backdrop.





Click Photos
For Full Size

With Thanks to
Matt Smith
for Photo Captions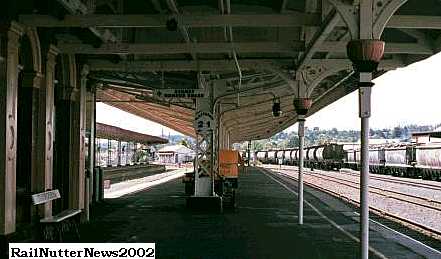 Looking east along Toowoomba platform, a once busy interchange for western
and interstate passenger trains. the Railway Refreshment Room still operates
to this day as a restaurant, serving traditional Aussie railway meals.
To the right two rakes of grain wagons can be seen.
SPRING BLUFF HERITAGE STATION
Below, a Brisbane bound container train descends the grade through
picturesque Spring Bluff Station. A popular tourist attraction,
Spring Bluff won QR's gardening competition year after year after year.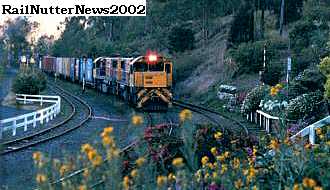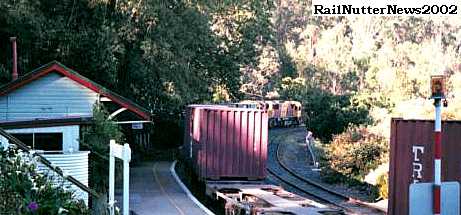 MURPHY'S CREEK
The above mentioned container train emerges from the forest at Murphy's Creek.
Helidon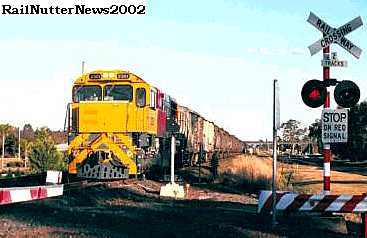 A westbound grain train passes thru Helidon just
prior to commencing it's lbourious haul up the hill