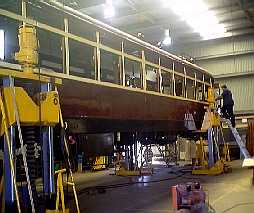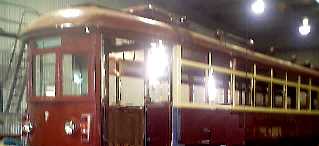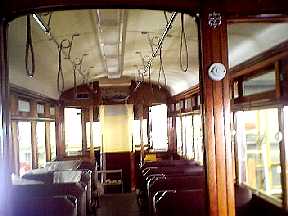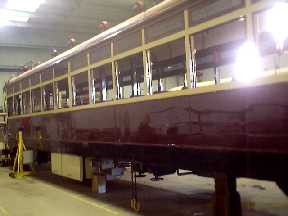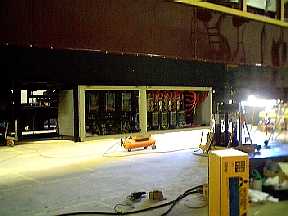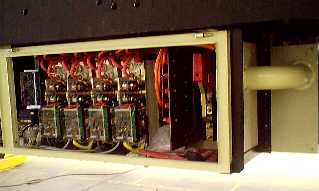 A project costing 5 million Australian dollars is near to completing its first stage. H type tram 380 (formerly 359) is nearing completion of its renovation. This is the first of five trams to be renovated by private enterprise, the first time such a contract has been undertaken. Previously all work of this type was completed by Trans Adelaide and prior to that the State Transport Authority, the Municipal Tramways Trust and the South Australian Railways.
The main contractor in this enterprise is All Transport Industries owned by Rocc Giglio, with specialist work provided by Electronic Enterprises Australia LTD, for the chopper unit, and Allied Engineering Pty LTD for refurbishment of the trucks and other heavy engineering work. The main emphasis has been to maintain the original appearance of the trams, but to introduce new technology as much as possible. The driver's cab has a new fiberglass front, reinforced with box steel section; this is contained within the fiberglass and hidden from view. Air conditioning has also been included for the driver's comfort. The original General Electric PC5L2 controls have been reinstated, but in fact are replaced by a locally designed chopper unit. This electronic unit is designed to reduce brake block wear, improve braking performance, and to reduce damage to motors from notching up too quickly, and emergency braking. The existing PC5L2 CASING has been stripped of its fingers and replaced with electronic circuitry. The heart of the unit is contained in an under floor, sealed, air conditioned casing.
The frame of the tram itself has had several changes made. The door operating systems are now of a 'smart door' system, provided by SMC Pneumatics which opens the door automatically if someone becomes trapped in them. The corner posts are now constructed in box steel, replacing the old blackwood timber. Roof construction has been upgraded to include a fiberglass coating. Tinted glass has been refitted to all windows, with gas struts included in the vertical sliding sash windows to aid in their operation. Fluro lighting has been added to the centre ceiling, and new buzzer buttons and stopping signal signs.
Other improvements include extra pins inserted each side of the couplers as part of the chopper unit upgrade, air piping has been replaced in copper, with flexible hoses to couplers and compressor tanks, and new air tanks have been fitted. Most of the new wiring runs under the floor unit in flexible conduit instead of in the window trunking, and improved sanding gear has been fitted. The driver also has a new seat of a type borrowed from the defence industry.
(The majority of the technical information in this summary has been provided from an article by Kym Smith, a local tram buff, who is a the moment working with myself in Adelaide, but is soon to been heading a department in the Bendigo Tram Museum, maintenance division. I wish him the very best of luck in his new venture).